I'm a little late reviewing this – I know a lot of other people have provided their feedback and opinions but hey, I have one and here is my take on it.
The primary reason I wanted a Nexdock was to gain better and easy access to my Raspberry Pi projects. That said, there are many other possible uses. So far I have used it to connect to my servers, Samsung S10+, and a half-dozen Raspberry Pi's for various reasons.
While I was waiting for the delivery from my pre-order, I started having issues with my years' old Surface Pro. This created an new, longer-term plan for the NexDock… a replacement laptop. This is how I am primarily using the NexDock now.
The NexDock is ready right out of the box for most applications. I already had a Pi on standby ready to test and make sure everything works. Once verified, I spun up a new 8GB Pi 4 with an SSD, loaded Ubuntu 20.10 and went to work.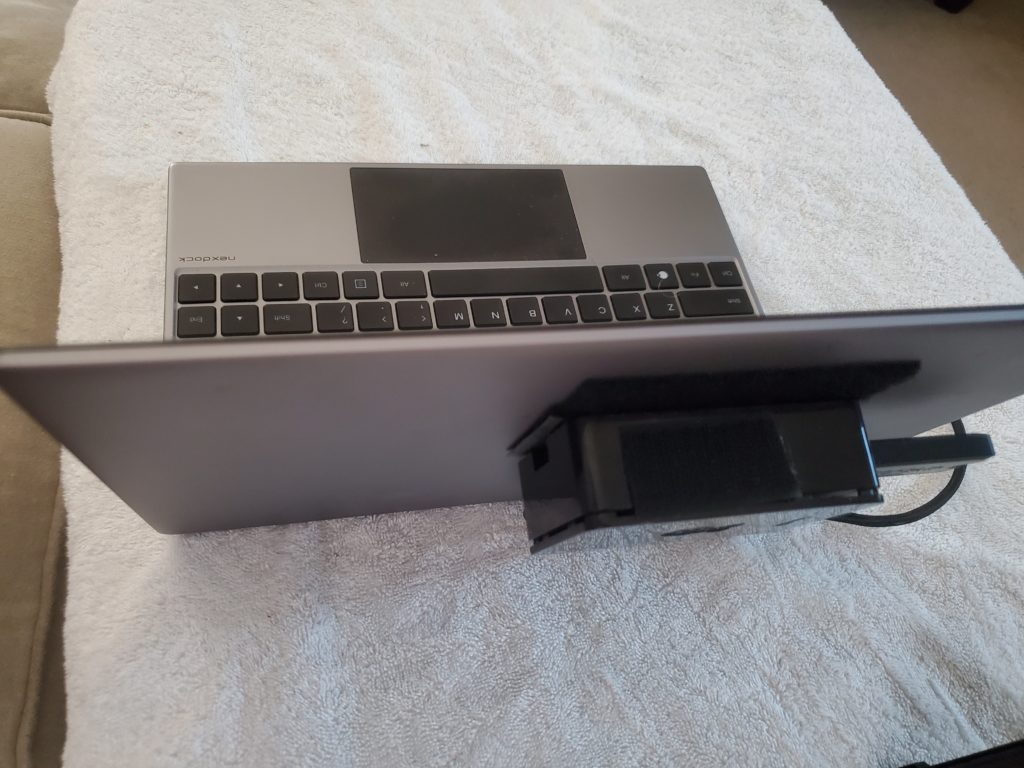 Overview
The display is 14.1″, bright, High-definition (1920×1080 FHD), and touch-sensitive. I am not big user of touch screens in general but I do like to make sure things works as advertised.
The keyboard works with little pressure needed. I have noticed some key sticking here and there but nothing too aggravating or troublesome. Perhaps it just needs a little break-in time.
The trackpad… oh the track-pad. So I pretty much despise these devices under any circumstances but the track-pad on the NexDock is annoying at best. Normally these lack responsiveness or require strong pressure to work accurately but the NexDock track pad is the opposite. It almost seems to feel your finger, palm, arm, breath passing over it. This results in the cursor/pointer flying all over the place, onto wrong lines or into completely other windows. Not ideal when you are updating code in HomeAssistant or editing files. Luckily I have a few extra mice lying around so I quickly switched over.
There are a few ports on the NexDock. I use the "1-Wire" for my Pi, the HDMI, Power, and the USB-A for a mouse.
1x USB-C 3.1 with DisplayPort
1x Full sized HDMI-in (1.4a) Port
1x USB-C PD Charging Port
1x USB-C 3.0
1x USB-A 3.0
1x 3.5mm audio
1x Micro SDXC reader
Opinion
If you need or want an easy solution to use with you Raspberry Pi, PC, or smartphone, the NexDock makes a good all-in-one addition. You can quickly connect to an otherwise headless setup for a quick display and keyboard or use it for a more permanent solution. I was less impressed with the built-in battery when using with the Pi. I approximate about 4 minutes of runtime with my current setup although I believe the combination of the Pi 4 and the SSD drive merely draws far too much for the built-in 60W battery. It allows enough time to relocate to a different area of the house without shutting down first so it is not a complete fail for me.
I didn't address it but it also quickly turns your Samsung into a DeX PC making it a very portable solution for many. For those of you that have a Samsung 8 or newer and have not explored DeX, I highly suggest it. Just the larger interface is neat and makes for a more enjoyable experience during longer periods of web browsing or email writing.
Please follow and like us: